Using Rhinoplasty to Improve the Nose Tip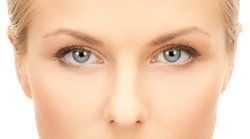 The nose can have a major impact on the rest of one's face - people cannot help but notice the size and shape of a nose and how it complements the surrounding facial features. Therefore, if a person is unhappy with how his or her nose looks, rhinoplasty may be considered as a way to permanently improve appearance. However, the entirety of the nose does not need to undergo surgery in order for a noticeable difference to be made. In many cases, the nose's tip is its most defining feature, as well as the main part that patients wish to change.
Although we perform various types of rhinoplasty procedures at our Ottawa plastic surgery office, it is helpful to discern some of the more common reasons for surgery and their treatment options. If you often find yourself dissatisfied with how your nose looks from the front, tip rhinoplasty may be the right treatment for you.
Why Choose Tip Rhinoplasty?
One of the most popular reasons that people opt for rhinoplasty is because they are displeased with the shape of their nose's tip. This may be compounded with other issues, such as a long nose or uneven bridge, but it is often the front of the nose that has the greatest effect on the rest of one's face. Specifically, some people may complain of a bulbous tip or one that is too large in general, while others' noses may droop down in the front or appear asymmetrical. In some cases, a drooping tip may even interfere with one's breathing, restricting airflow. Whatever the reason may be, rhinoplasty allows patients to achieve a permanently new look for their nose and thus overall appearance.
Candidates for Tip Rhinoplasty
If you would like to alter the shape of your nose to better complement your face, you are likely a good candidate for rhinoplasty. There are few contraindications for surgery, and most patients are able to recover easily without complication. As long as you are in good general health, you will likely be able to undergo surgery. As with other procedures, it is necessary that you discuss your medical history with Dr. Brownrigg, especially concerning any systemic diseases or bleeding complications that may interfere with recovery. Through a candid consultation, you can gain a clearer picture of what to expect from your own rhinoplasty.
While rhinoplasty is not intended for any specific age group, patients should be at least old enough that they have completed their primary growth spurt during adolescence. This allows the nose to complete most of its growing before any permanent changes are made to it via surgery. Therefore, patients should be at least 15 or 16 years of age, as it is this point at which the nose should be in its final, "adult" form.
How Is Tip Rhinoplasty Performed?
Since everyone's nose is different, each rhinoplasty procedure will vary, even when just dealing with the tip. In some procedures, cartilage may be removed, while other surgeries involve cartilage transplants or modifications to the septum. A few standard techniques include:
Dome binding: Small sutures are used just above and below the nose's tip, cinching it into a new position. This tends to result in a sharper, better defined shape, but cannot achieve dramatic results on its own.
Tip lifting: Drooping tips can be lifted through narrowing the cartilage, applying fixed sutures, and possibly modifying the length of the anterior septum.
Tip narrowing: Wide nose tips are a common complaint, and can be narrowed through a reduction and molding of cartilage.
Tip reduction: For an overall reduction in tip size, cartilage will be removed and the septum shortened. If this results in nostrils appearing too large, the nasal alar wings will also be shortened.
For any of the above procedures, patients may be given the option to have an open or closed rhinoplasty. In an open rhinoplasty, an incision is made in the columella (the skin between the nostrils) and it is lifted up for direct access to the tissue and bone. The closed technique utilizes incisions within the nostrils for no visible scarring. Although each option has its advantages, an open rhinoplasty will almost always make the procedure easier for the surgeon, thus yielding more accurate results. As always, speak with your doctor beforehand to understand exactly what the procedure will entail.
Is Rhinoplasty Right for You?
If you are interested in undergoing rhinoplasty or another one of our plastic surgery procedures, schedule a consultation with Dr. Brownrigg to learn more. By discussing your goals for surgery and your health, we can ensure that you receive cosmetic treatment that is best suited for you.
Related to This